Results are released within a window, which is specified on your Confirmation of Entry. You will receive an email when your result is released and available on the Candidate Results Website.
You may be able to see your score on the website before you receive the email confirming its release. If you try to download your Statement of Results at this point you may encounter this message: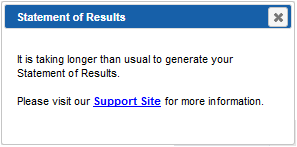 If you have not received an email that your results are released and your score is visible, please wait 24 hours and try again. If you are still not able to generate it, please contact us and provide us with your ID Number, the name of the exam, and the Email you used to register.
Results older than 5 years
If you are trying to generate a Statement of Results that is older than five years then please try to download it again in 15 minutes. If it is still not available, get in touch.