Information for recognising organisations looking to verify candidate results. Candidates looking for information on how to share their results can find further information, here. 
The Results Verification Service (RVS) allows recognising organisations to check the authenticity of Cambridge English results. The service is secure, easy to use and means you can be certain that a candidate's result is valid.
Exams that can be verified using the Results Verification Service
A2 Key
A2 Key for Schools
B1 Preliminary
B1 Preliminary for Schools
B2 First

B2 First

for Schools

C1 Advanced
C2 Proficiency
B1 Business Preliminary
B2 Business Vantage
C1 Business Higher
Delta Module One
Exams taken before 2005 cannot be verified using the Results Verification Service. 
Exams that are not available on the Results Verification Service (e.g: teaching qualifications, exams taken before 2005, etc.) can be verified using the Manual Verification Request form for recognising organisations, here. 
How to register your recognising organisation
To register for the Results Verification Service visit our online registration form.
You can apply for an account if you are a representative of an organisation such as a university, company or governmental body and you are authorised to verify exam results for that institution.
Each institution should only require one account. Only apply for a new account if you are sure the organisation does not already have an existing account. Once your account has been created, the primary user will be able to add additional users.
In some cases, an organisation may require multiple accounts, because they have offices in different countries/locations, or because they operate independent admissions processes for different levels of study (such as undergraduate and postgraduate).
Make sure that the account name that you use is unique. If there is likely to be more than one RVS account linked to your organisation then you will need to add something to the account name that will distinguish it from the others, for example:
Account 1: University of San Serriffe – Freedonia
Account 2: University of San Serriffe – Freedonia undergraduate admissions
Once you have submitted this form we will acknowledge your request within five working days and you will receive an email to say your account has been approved. You can follow the link provided in this email to set up your password. 
Finding and verifying candidate's results
There are two ways for a candidate to share their results with you:
Firstly, they can verify online.
Candidates can login to the Candidate Results Website and choose to share their results with your organisation. New candidates will always appear in bold. 
Guidance for candidates on how to share their result can be found here.
A candidate may also choose to verify offline.
Candidates can share their Statement of Results verification number (previously reference number) and date of birth and you can use these to search for their results. 

You can choose to receive email notifications whenever candidates share their results with you. Click on the arrow next to your name in the top right hand corner of your account and select Email Notifications.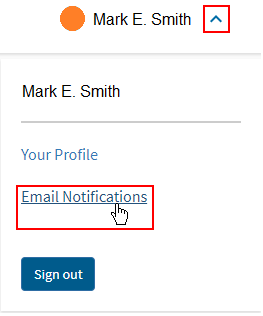 You can also switch notifications off at any time.
If the notifications are 'off' an email will not be sent but you will still have the same access to view candidates results who have notifications 'on'.
Searching for a candidate
There are two ways to search for candidates:
Shared Results tab
You can search for a candidate who has shared their results with your organisation using the following options:
Candidate Name: You can search First name, Surname, or a combination of both.
Candidate Date of Birth: Select a date from the calendar or enter using the format YY-MM-DD.
Candidate ID Number: The Candidate ID Number can be found on the candidate's Confirmation of Entry document (e.g. 123456ABC).
Exam Name: A full list of exam names can be found at the top of this article.
Exam Place of Entry: The city where the candidate took the exam.
Exam Centre Name: The full name of the centre where the candidate took their exam.
Candidate Email Address: The email address the candidate used to register on the Candidates Results Online website.
Date of Exam: Select a date from the calendar or enter using the format YY-MM-DD.
Candidate Search tab
You may also search for a candidate using the Candidate Search. To do this you will need the Exam Verification (Reference) Number and candidates date of birth.
Exam Verification (Reference) Number:
The exam verification number can be found in the top right corner of a candidate's Statement of Results. You can use the exam verification number to find any candidate's result, even if those results have not been shared. If the candidate received their Statement of Results before June 2021, it will have a reference number instead of a verification number.
Please see below examples of what the reference or verification number will look like:
Example number for exams from February 2020: A1234567
Example number for exams before February 2020: 123AB1234567
If the results have not been shared, you will also need to enter the candidate's date of birth.
After locating your chosen candidate you can click through to view their result details, including:
Overall candidate result on the Cambridge English Scale
Test day photo (if applicable)
CEFR Level
Individual score breakdowns
Downloading Results 
You can easily download a Statement of Results (pdf) or data file (xlsx/csv) for multiple candidates. To do this, select one or more candidates using the tick boxes and then click the arrow next to the Download Options box, and choose your file format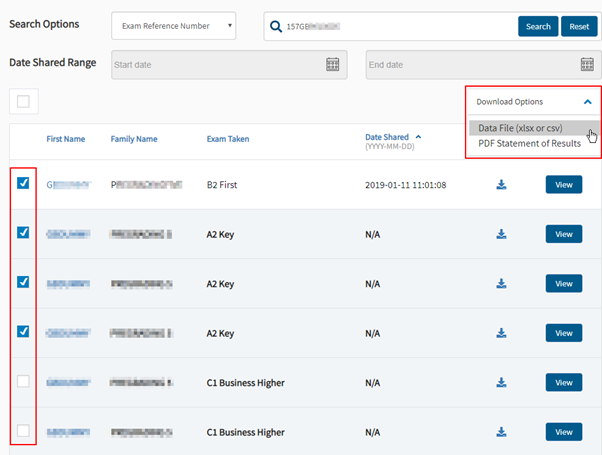 If you choose Data File, you can use the default template, which will include all available candidate details, or you can also set up your own templates. To do this, navigate to the Downloads section and select Create New Template.


Choose a name for your new template and the data that you want to appear on the exported file by dragging and dropping from the options: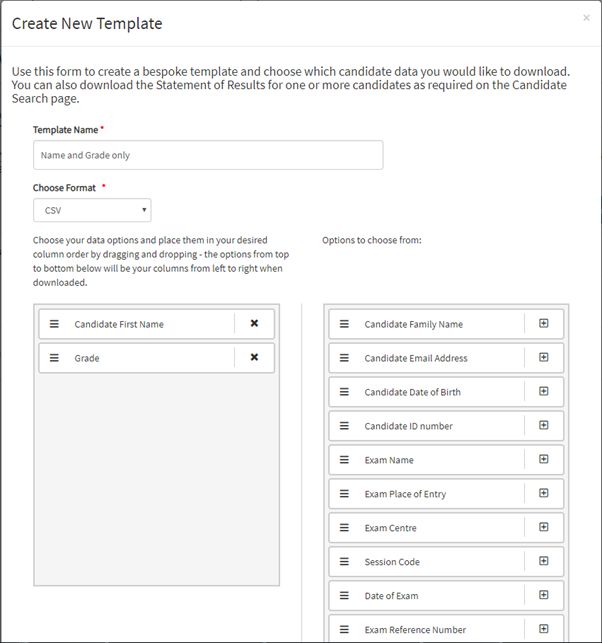 Your template will now appear as an option when you download a data file.
You can visit the Download History section if you need to download a file again.
Setting up additional users 
The person who completes registration on behalf of your organisation will be the Primary User for your account and will be able to create, edit and delete additional users as required.
To add another user, the Primary User should log in to the service, navigate to Your Organisation and then the Users tab: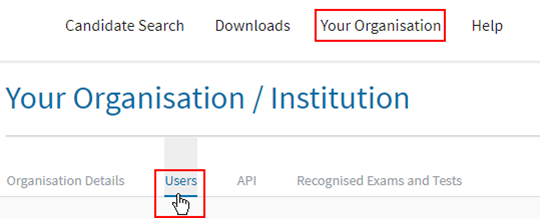 Click the  button and fill in the required information (new users will receive an email with instructions on how to log in).
If you need to change your Primary User, please contact the Centre Registration team at centreregistration@cambridgeenglish.org
Editing your organisation details 
You can edit your organisation details by clicking on the Your Organisation tab
And then clicking the 

 button.

Only the Primary User can edit organisation details. If you need to change your Primary User, please contact the Centre Registration team at centreregistration@cambridgeenglish.org
Editing your recognised Exams and Tests
By selecting Your Organisation and then Recognised Exams and Tests you will find a list of all Cambridge English exams and tests that your organisation accepts and/or uses. 

The Primary User can edit this list at any time by selecting or deselecting the blue check-boxes next to the exam name.
You can find a full list of exams that can be verified using this service at the top of this article.
All Recognising Organisations will be listed on our online Global Recognition Database
If you have any questions about the validity of our exams, please do not hesitate to contact our Global Recognitions Team at recognition@cambridgeenglish.org.
Advanced tools (API integration)
You can streamline your workflow by utilising our Application Programming Interface (API) integration to connect the service with your own database. Navigate to the API section, found under Your Organisation, and follow the link to our API Developer Portal to get started. Please contact us at ApplicationSupport@CambridgeEnglish.org quoting 'Results Verification Service API' in the subject title if you have any questions about this option.