This article contains step-by-step instructions for making a large number of entries for the Cambridge English Placement Test using the Bulk Entry Import feature.
You can use the Bulk Entry Import feature to import a CSV file of candidate details into a session. The maximum number of entries that can be uploaded at once is 1500.
This method is useful if you want to input candidate's details into the system and have a large number of candidates to enter. It may be useful if you have your own candidate records that can generate a CSV of their details. Once they've been imported, an entry code will be generated for each candidate that they can use to access the test.
Please ensure a unique username is used for each different candidate under your Institution ID (including candidates at different Client venues). If the same username is used, it will link the account with any tests previously done under that username. We suggest using a naming convention for the usernames to ensure they are unique, such as 'ClientName_TestDate_Cand001' for example.
How to use the Bulk Entry Import
1. Log into the Cambridge English Test Portal
URL: https://www.metritests.com/metrica
2. Click Sessions
3. Locate the session you wish to import candidate into and click the Session Name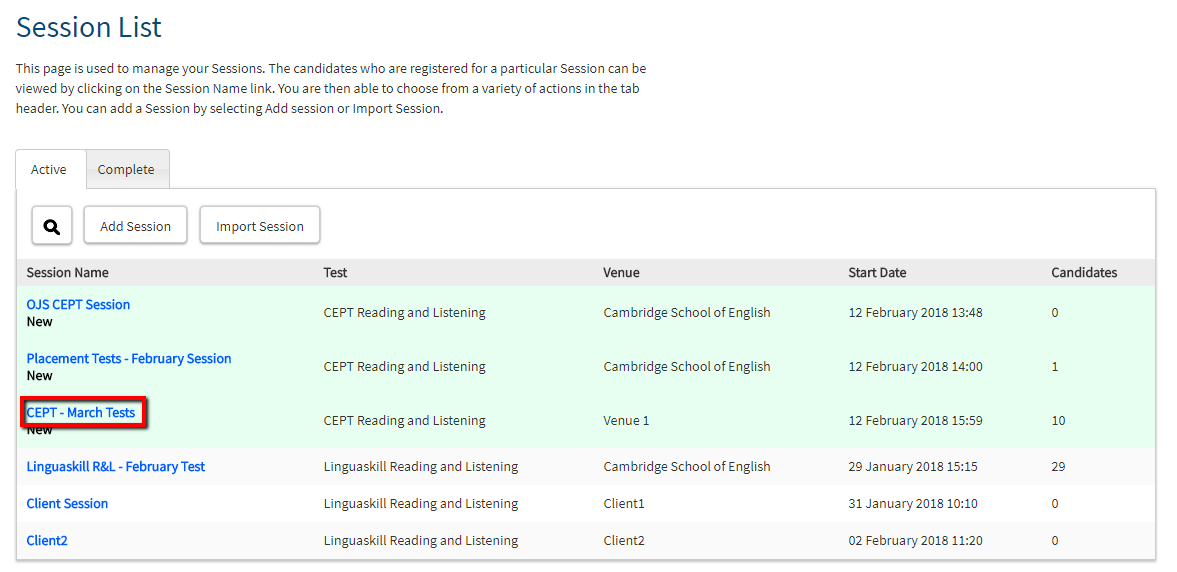 4. Click Add Entries

5. Click the Bulk Entry Import tab

6. Click the download an example CSV link

The example CSV file contains the following columns: Login, Password, Institution ID, Title, First name, Family name, Email address, Date of Birth, Gender by default.
The Password entered needs to meet these requirements:
- at least 8 characters long
- at least 1 capital letter
- at least 1 lower case letter
- at least 1 number
If you want to add extra information e.g. degree course, use sections 4 and 5 as shown below. In these sections you should select both the "field name" and the corresponding "field value". The field name is the name (or title) of the data, for example: "First language", whereas the field value is the actual data, e.g. "Spanish".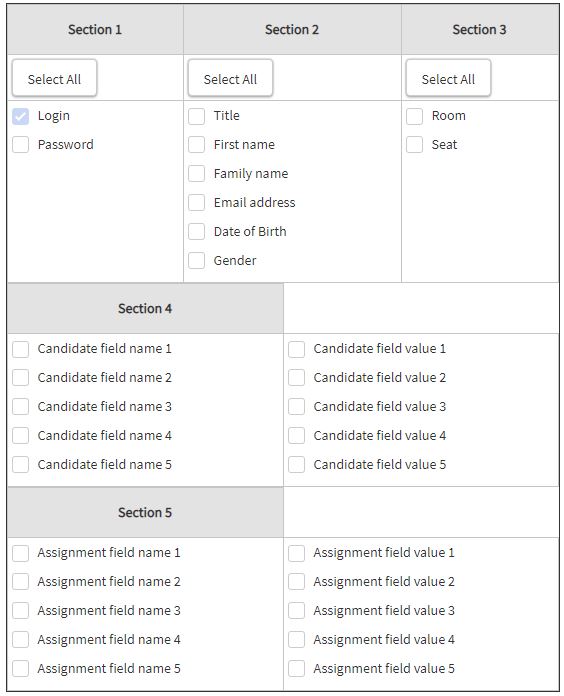 7. The columns in the CSV you import must match the fields selected on screen. Ensure the required fields are selected.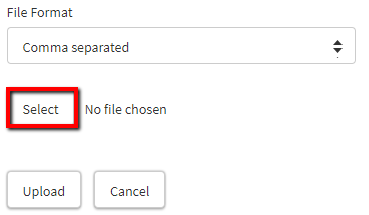 8. Navigate to your CSV file to select it
9. Click the Upload button

10. The candidates will now be in the session. Click OK to continue

11. Candidates can be given their entry code to access the test. Tick the tick box for each candidate entry code you wish to export and click the Export data button.

When using this method, please remember the following:
Do not use special characters other than underscore _ and hyphen -.
Make sure there are no spaces after the commas and no empty lines in the CSV file.
Once you have added your entries you will be ready to run some tests.
Instructions for withdrawing any entries you want to remove from the session can be found here.