Webpages not loading correctly can be caused by old out of date settings or cookies held in you browser history. This can be resolved by clearing the browser history for all time. Below are instructions on how to do this for Chrome, Edge, Firefox and Safari.
Firstly ensure that you are using the latest version of your browser.
Chrome
To clear Chrome's history you will need to first click on the 3 dots in the top right corner. Then select History and move the mouse over to the pop up window and select History again, or you can press CTRL + H.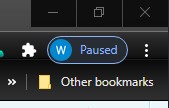 Either of these options will open the History tab in Chrome.
Once the History tab is open, you will need to select Clear browsing data in the top left corner, as shown in the below image.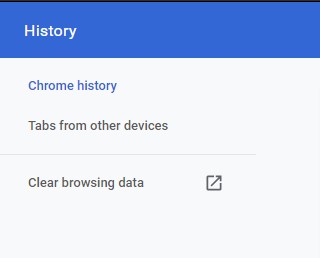 A pop up window will appear with the title Clear browsing data with two tabs Basic and Advanced. Select Advanced and set the Time range to All Time.

Once you have set the time range select the following options:
Browsing history, Download history, Cookies and other site data, Cached images and files and Site settings. Once these are selected click Clear data.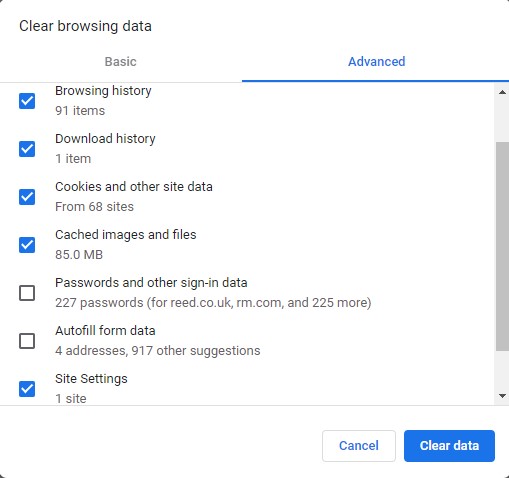 Your browser history is now clear, refresh the portal web page and login again.
Edge
Clear browsing data stored on your computer
To clear browsing data on your computer, make sure sync is turned off. Items that are synced will be cleared across all synced devices.
Here's how to clear your browsing data in Microsoft Edge:
Select Settings and more Settings > Privacy, search, and services.
Under Clear browsing data, select Choose what to clear.
Choose a time range from the Time range drop-down menu.
Choose the types of data you want to clear (see the table below for descriptions). For example, you may want to remove browsing history and cookies but keep passwords and form fill data.
Select Clear now.
Browsing data you can delete in the browser
| Types of info | What gets deleted | Where it's stored |
| --- | --- | --- |
| Browsing history | The URLs of sites you've visited, and the dates and times of each visit. | On your device (or if sync is turned on, across your synced devices) |
| Download history | The list of files you've downloaded from the web. This only deletes the list, not the actual files that you've downloaded. | On your device |
| Cookies and other site data | Info that sites store on your device to remember your preferences, such as sign-in info or your location and media licenses. | On your device |
| Cached images and files | Copies of pages, images, and other media content stored on your device. The browser uses these copies to load content faster the next time you visit those sites. | On your device |
| Passwords | Site passwords that you've saved. | On your device (or if sync is turned on, across your synced devices) |
| Autofill form data (includes forms and cards) | Info that you've entered into forms, such as your email, credit card, or a shipping address. | On your device (or if sync is turned on, across your synced devices) |
| Site permissions | Go to Settings and more > Settings > Site permissions to see a list for each website, including location, cookies, pop-ups, and media autoplay. | On your device |
| Hosted app data | Info web apps store on your device. This includes data from the Microsoft Store. To see the apps saved to Microsoft Edge, go to Settings and more > Apps > Manage apps. | On your device |
Firefox
How do I clear my history?
Click the Library button , click and then click .
Select how much history you want to clear:

Click the drop-down menu next to Time range to clear to choose how much of your history Firefox will clear (the last hour, the last two hours, the last four hours, the current day or everything).

Click the button. The window will close and the items you've selected will be cleared from your history.
Safari
Clear your browsing history in Safari on Mac
You can remove all records that Safari keeps of where you've browsed during a period of time you choose. If your Mac and your other devices have Safari turned on in iCloud preferences, your browsing history is removed from all of them. Clearing your browsing history in Safari doesn't clear any browsing histories kept independently by websites you visited.
In the Safari app on your Mac, choose History > Clear History, then click the pop-up menu.

Choose how far back you want your browsing history cleared.
When you clear your history, Safari removes data it saves as a result of your browsing, including:
History of web pages you visited

The back and forward list for open web pages

Top Sites that aren't marked as permanent

Frequently visited site list

Recent searches

Icons for web pages

Snapshots saved for open web pages

List of items you downloaded (downloaded files aren't removed)

Websites added for Quick Website Search

Websites that asked to use your location

Websites that asked to send you notifications

Websites with plug-in content you started by clicking a Safari Power Saver notice
To clear the Cookies for Safari you will need to follow the instructions below.
In the Safari app
on your Mac, choose Safari > Preferences, click Privacy, then do the following:
Remove stored cookies and data: Click Manage Website Data, select one or more websites, then click Remove or Remove All.
Clean the Safari cache
Preferences > Privacy > Advanced > Show Develop Menu in Menu Bar
The hidden Safari Developer menu can be used to clear just the cache, leaving cookies and the browser history in place. This is a very useful diagnostic step to take before removing those two items if a website behaves badly.
The Developer menu can be activated by selecting Safari > Preferences, clicking the Advanced icon, then putting a tick alongside Show Develop Menu in Menu Bar. (This option is right at the bottom.)
A new Develop menu option appears to the left of the Window and Help menu options. Close any open Safari windows and select Empty Caches on the Develop menu. Then click File > New Window to start Safari with a clean cache.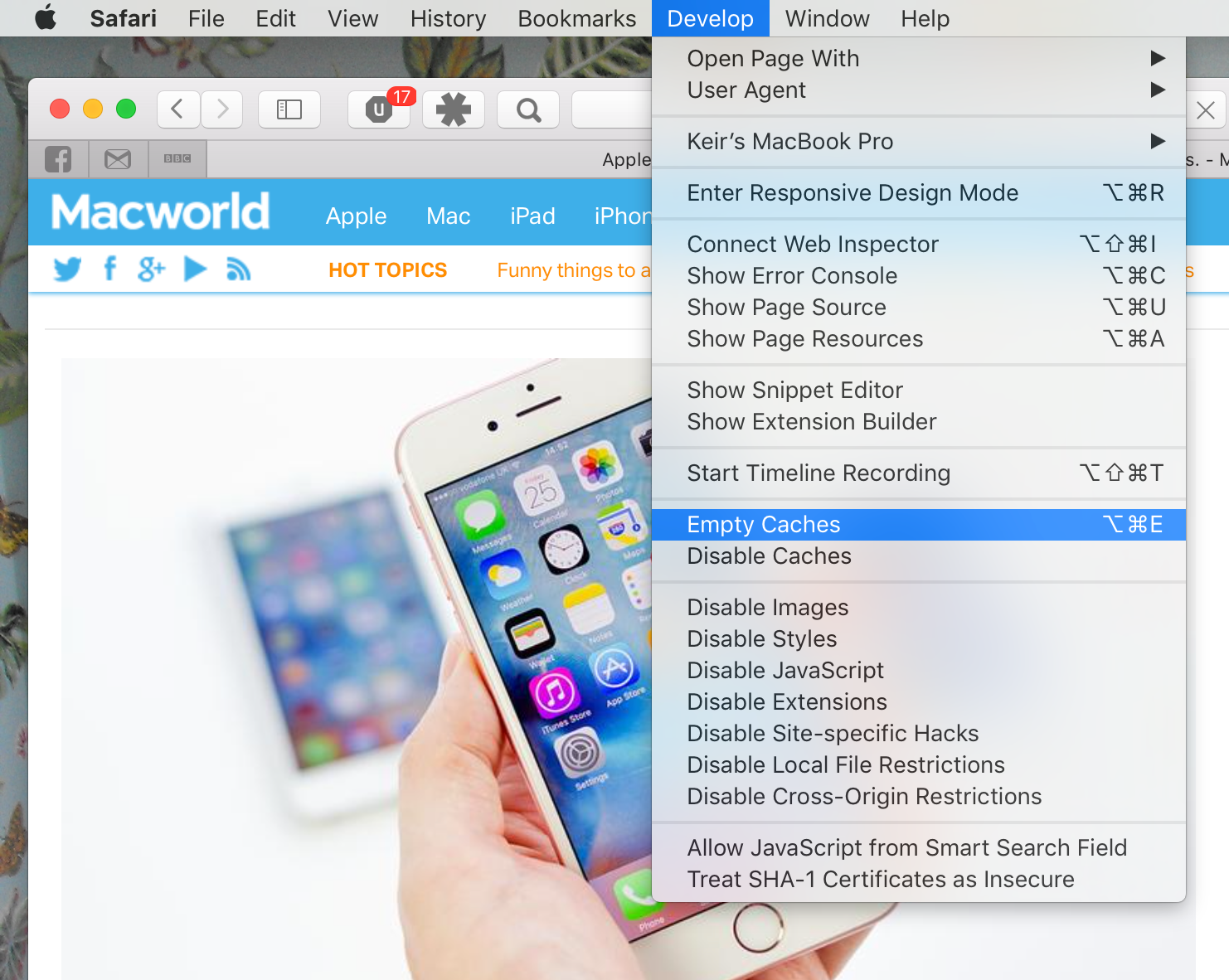 ---
Need some help?