Exam Lift is a mobile app that aims to help candidates prepare for their B1 Preliminary for Schools exam.
To help use the app, we've answered some of the most common questions that Exam Lift users might have below.
I haven't received the the verification email, what do I do now?
When you sign up for Exam Lift, you will be sent a verification code to the email address you entered when you created the account.
If you do not see the email, there are a few steps you can take.
Check your Junk Mail folder to make sure that the email was not filtered as spam by your email provider.
Also, make sure you're checking the email account of the address you submitted when signing up. If it is not there, you can have the email re-sent by logging in to the site and clicking 'Send me a code'.
Please add 'exam-lift@cambridgeassessment.org.uk' to your safe senders list.
Why doesn't my verification code work?
Please try the steps below:
Copy and paste the code to make sure it's correct.
Double check the code matches the code in the email.
If you have requested multiple codes, ensure you're using the most recent.
If the above steps don't work please enter your email again to request a new verification code.
I can't seem to log in with my password?
To reset your password:
From the sign-in page, please select Forgot your password?
Enter the Email Address you used to make the account.
Click Send me a code. Make sure to check your email junk/spam folder.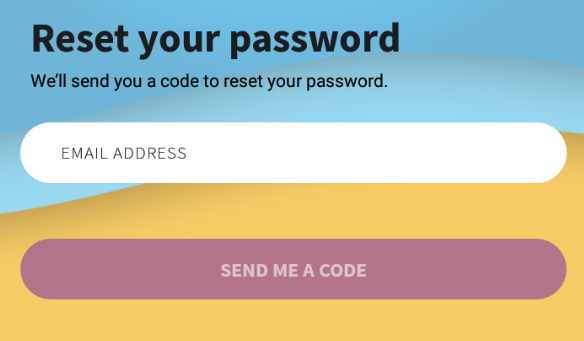 Your password will need to be at least 8 characters long to work on the app.
You can find more help with logging in here.
The app is not displayed properly on my screen, some of the content is cut-off?
Exam Lift is only supported on the screens that are above 5.5"(14cm) in size. Screens below this size will not be able to properly display the activities. Please use a display with a larger screen to use Exam Lift.
The buttons at the bottom of the screen are covered up so I can't press them?
We are aware this happens on some mobile phones with onscreen buttons.
For example:
Despite the buttons not appearing correctly they should still function as normal on most devices.
We are currently working to fix this. In the meantime you can change the settings on your device to disable the pop-up keys.
You may me able to fix this on your device be pressing the square button on your screen and then going back into the app.
My profile page is blank when I click on 'My Profile'?
If your information does not appear from within the app, please log out and back in to Exam Lift. Your account information will now appear again.
There is no sound during the listening activities?
Even though the sound may be enabled in the app, your device itself may be muted. Please check this first, but you can also try:
• Moving the ringer switch down and up again
• Restarting your device
• Ensure Bluetooth is disabled
You can find more information about using Exam Lift here.